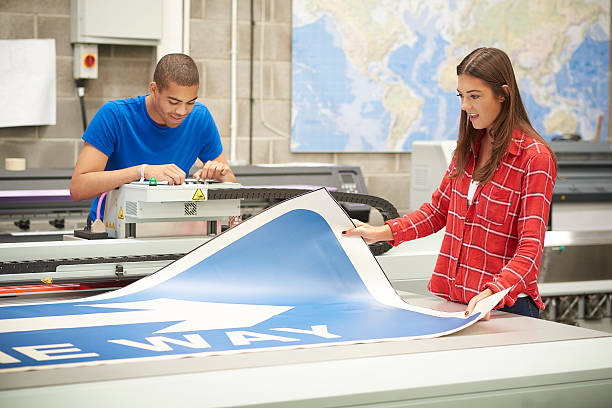 Are your adverts reaching a sufficient number of people? Custom vinyl banners have the potential to reach a large number of new customers and rapidly expand your following.
The true issue is finding the proper words and graphics to keep them interested once you've captured their attention. The quality of your banner design determines the impact of your message. An eye-catching, goal-driven, and easy-to-read banner will help you engage with those who haven't heard of your company before.
If you are looking for a laser cutting design and a banner that stands out, here are some tips to follow:
Choose the right font size
Consider the dimensions and scale of your vinyl banner. What height and distance will your banner be displayed? How far away from the banner do you want people to be able to read it? For every 100 feet of visibility, a general rule of thumb is 10 to 100 – 10 inches of letter height.
Also, keep in mind that the greater the banner and letter size is, the faster the passing traffic is. That is, on a banner targeting motorway traffic, your text type will need to be much larger than on a banner targeting park walkers.
Go for impactful words only
You only have a few seconds with vinyl banners to get your message through, if that. You've lost the person's attention if the material can't be read and understood in a second or two. When utilising text on a banner, a typical rule is that it should be 3 by 5. To put it another way, keep things simple – aim for clarity and stick to the guidelines when it comes to designing custom vinyl banners. On the banner, there should be no more than 15 words.
Select contrasting colors
Choose colour combinations that have maximum impact and are easy on the eyes, such as Black on White or White on Blue, to make your vinyl banner obvious and distinct in only a few seconds.
Consider the competition
If you're going to hang your vinyl banner in an area where there's a lot of other signage, you'll need to figure out how to make it stand out. For example, you might need to increase the size of your banner or make the colour more brilliant. It can be good to go to the place ahead of time to observe what the other signage's primary colours are so you can pick the best contrasting hues.
Finally, before the design goes to print and goes through laser cutting, make sure you like it. A banner is a symbol of the company you worked so hard to create, and you should be proud to show it. Only then will it bring the results you were expecting.